Our Galleries are centered in the heart of Europe, in the beautiful city that is full of artistic history: Brussel-Belgium.

Starting in the 1920s a young couple decided to follow their passion for art and chose to initiate themselves to the world of custom framing and to learn the restoration of artwork for their demanding and knowledgeable clients.
The Gallery in 1930 and its founder Georges GOOSSENS

Three generations later with each generation sharing knowledge and expertise we have reached the highest quality of customer satisfaction where we can salvage their artwork from the ravages of time .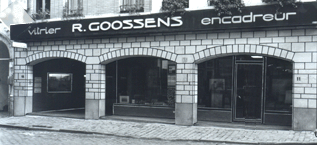 The 70s, Robert GOOSSENS and Viviane CASTELEIN

For over 15 years Hugues Goossens has been the head of this experienced private company insuring the continuity of professionalism.
His goal in this new millennium is to challenge himself and to create the new and prestigious "Virtual Gallery" in the same spirit as his elders.
The goal is to create a site as a reference for all professional and new art
collectors that can be browsed while looking for something specific or just
looking for something new.
We propose to unite in one area all the information necessary to find the best service inherent to art creation techniques, on how to sell the art, how to promote it and tips about the art world business

Please come and visit us on regular basis.

We guarantee the authenticity of all the artwork we have for sale. Dealing
with an expert and reputable company will be a guarantee to all buyers and a good resale value for your purchase.

Our team is working with an enthusiasm and an expertise that desires to give complete satisfaction to all our clients.
The distinctive mark for our Gallery is our variety and our selected contemporary and traditional artworks from around the world of well
know artists that guarantee a good resale value.
" For the love of the art and a great investment under the best conditions, Visit Art-Cadre"
---